Immortal Awakening
A Standalone Paranormal Romance -Part of the Midnight Coven's Vampire Mates
When Lillie Preston and her best friend, Colin, took their band on the road, they knew things would be challenging, but Lillie's newfound thirst for blood came as a bit of a surprise.
After an attack leaves Lillie with more questions than answers, she and Colin scour vampire clubs, goth raves, and fetish parties only to realize real vampires would never set foot in such places.
With a change in strategy, they make the fortunate acquaintance of Baron McCaffrey, Vampire Lord of the Underworld, who's more than happy to oblige Lillie's curiosity, but in the end, she finds the truth does anything but set her free.
---
Are you willing to taste immortality?
Come with us and let our vampires glamour you into a world full of dangerous magic, toe-curling heat, and a love to last forever.
The Vampire Mates series by the Midnight Coven contains thirteen tales penned by your favorite best-selling paranormal romance authors.
Each novella can be read as a complete standalone, but of course, we hope you'll bite into them all.
With our Vampire Mates at your side, immortality is sexy AF.
Get the complete Vampire Mates season by the Midnight Coven authors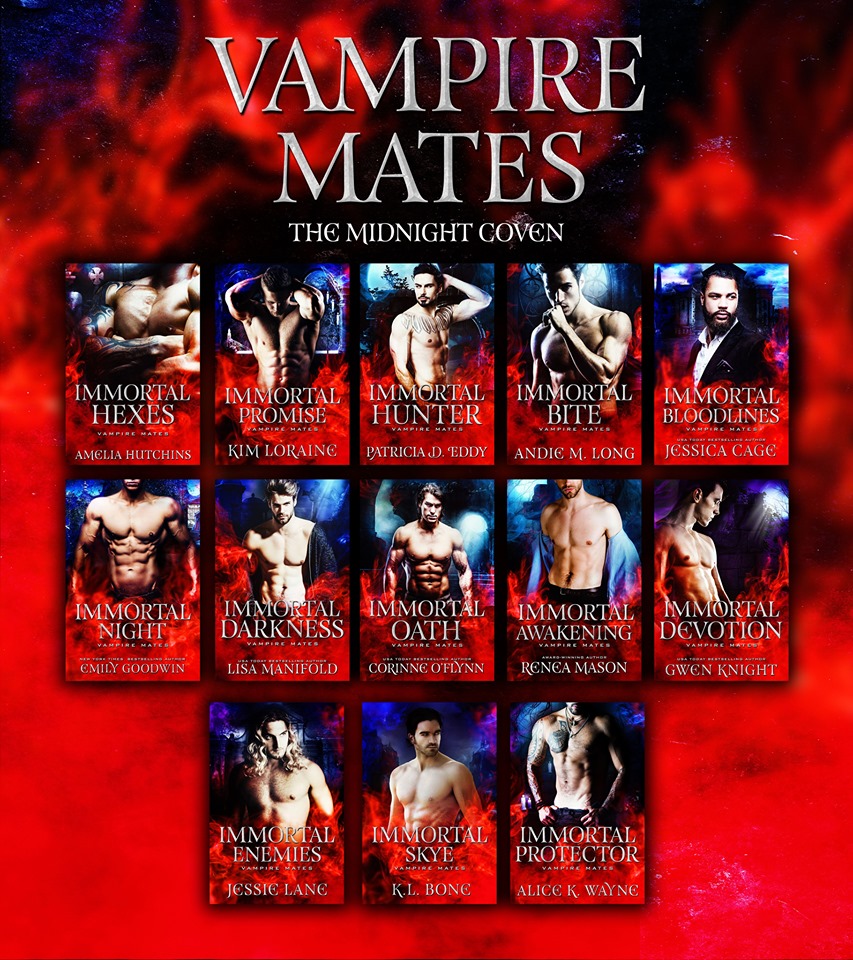 • Immortal Hexes by Amelia Hutchins https://books2read.com/u/mv2796
• Immortal Promise by Kim Loraine books2read.com/immortalpromise
• Immortal Hunter by Patricia D. Eddy https://books2read.com/u/mZNRE2
• Immortal Bite by Andie M. Long https://books2read.com/u/bpKX8z
• Immortal Bloodlines by Jessica Cage Author https://books2read.com/u/m2PO7R
• Immortal Night by Emily Goodwin
https://amzn.to/2yXMSDl
• Immortal Darkness by Lisa Manifold https://books2read.com/Immortaldarkness
• Immortal Oath by Corinne O'Flynn https://books2read.com/immortaloath
• Immortal Devotion by Gwen Knight
https://books2read.com/immortaldevotion
• Immortal Awakening by Renea Mason https://amzn.to/2Keb5fa
• Immortal Enemies by Jessie Lane
https://books2read.com/immortalenemies
• Immortal Skye by KL Bone
https://books2read.com/Immortal-Skye
• Immortal Protector by Alice K. Wayne
https://books2read.com/u/3nKwrx