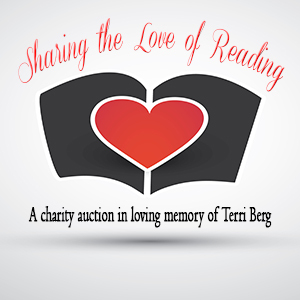 40+ Reading related auctions – one great event!
Hello everyone and Happy August. I hope you are all well and surviving this heat.
I would like to invite you to our charity auction, Sharing the Love of Reading, in loving memory of my dear friend Terri Berg. She was a huge help the indie author community and pushed me to put all of my books on audio. If she had not encouraged me to do so, I'd be minus one prestigious award. She also spent countless hours talking up books she loved and showing her support in many ways. If you have a moment this weekend, please consider checking out all of the amazing things donated to the event. We've got 40 items to bid on including ebooks, gift cards, paperbacks, a Kindle (that will come with ebooks from my friends), and more. All money from the items will be donated to the Carnegie Library for the Blind and Physically Handicapped.
If you are not able to bid on anything, please just help by sharing the event or inviting your friends. The auctions will be posted on Friday and will close on Sunday afternoon.https://www.facebook.com/events/263462510685111/
Thank you all so much for your constant support of myself and all those who are pursuing their passion for writing. We couldn't do what we do without readers, friends, and fans like you.